Happy Monday everyone, and welcome to a slightly later than usual edition of Latvia Weekly. The country is still trying to digest and understand the results of this weekend's eventful election, but a lot of other important non-politics related things happened over the course of the week as well. In terms of the weather, autumn is in full swing here with trees having turned beautiful shades of red, orange and yellow, temperatures dropping to single digits (in Celsius), and days alternating between clear skies and rain (sometimes by the hour). Now for the news...
13th Saeima elected on Saturday
The thirteenth Saeima (parliament), and ninth since the re-establishment of the Republic of Latvia in 1990, was chosen on Saturday by a record low 54.4% of eligible voters, down from the previous low of 58% in 2014. The previous coalition of
Zaļo un Zemnieku savienība
,
Vienotība
, and
Nacionālā apvienība
was punished, with those parties losing twelve, fifteen, and three seats in parliament respectively. The traditionally Kremlin-friendly
Saskaņa
party once again came in first place, but lost one seat and gained only 19.8% of the vote compared with 23.36% in 2014 and 28.36% in 2011. The biggest winners were newcomers to Saeima which included the populist anti-elite
KPV LV
(14.25%, 16 seats), the center-right anti-corruption
Jauna konservatīva partija
(13.59%, 16 seats), and the center-left
Atīstībai/Par!
(12.04%, 13 seats) Previous 12th Saeima participating parties
Latvijas reģionu apvienība
and
No Sirds Latvijai
did not clear the 5% barrier for inclusion in this parliament. 31 of the new deputies will be women, higher than the EU average. For a complete breakdown of the election results and what they mean,
please check out our complete guide here
.
Sources:
LSM
,
TVNET
,
Delfi
Saeima approves KGB file publication, open presidential elections, "fast credit" regulations, and security law amendments
Just two days before the election, Saeima (Latvia's parliament) made final decisions in its Thursday session on a few of the major issues that have been discussed recently. First, presidential elections will now take place using an "open ballot" system, meaning that members of parliament will go on public record when voting for president. Advocates of this change say that this will allow for greater accountability and transparency, as some believe that the current system of secret ballots allows for "vote buying" or other shady political activity. The second major decision was to publish the Soviet-era KGB archive later this year, an issue that has been discussed as far back as the restoration of Latvian independence in 1990. Critics of the decision claim that this will damage "social cohesion," but supporters argue that the publication is a matter of historical accountability and is already long overdue. A decision was also made to implement new restrictions on "fast credit" companies that offer high interest short-term loans. These new regulations include a cap on interest rates to 60% per year (down from the current 200%) and a limit to the near-ubiquitous advertising that such companies do. Finally,
the country's national security law was updated
to allow civilians the right to armed resistance in the case of a military attack or territorial annexation by another country (not only in an officially declared war as the law previously required), and formally outlaws the collaboration with invading forces unless one's life is at risk. These amendments are relevant due to the style of "hybrid warfare" practiced by Russia during the 2014 annexation of Crimea and in the ongoing frozen conflict in Eastern Ukraine.
Hostage situation on the high seas
Police rescued a man who was being taken from Latvia to Sweden against his will via a yacht in the country's first ever maritime hostage situation. The 46 or 47-year-old kidnapper was detained by the Navy and Border Guard after the 52 or 53-year-old hostage was able to contact family who then called police. The operation was coordinated by the national "Omega" counter-terrorism task force. Both the kidnapper and the hostage are Latvian nationals, but no further information has been released since the Wednesday incident was reported on Friday. State Police has, however, released a video via their Twitter account detailing the operation:
Operatīvais video no trešdien Rīgas jūras līcī notikušās ķīlnieka atbrīvošanas operācijas 🚨
pic.twitter.com/Y6Qxo5SHo7
— Valsts policija (@Valsts_policija) October 5, 2018
Sources:
LSM
,
Apollo
Draugiem.lv front page hacked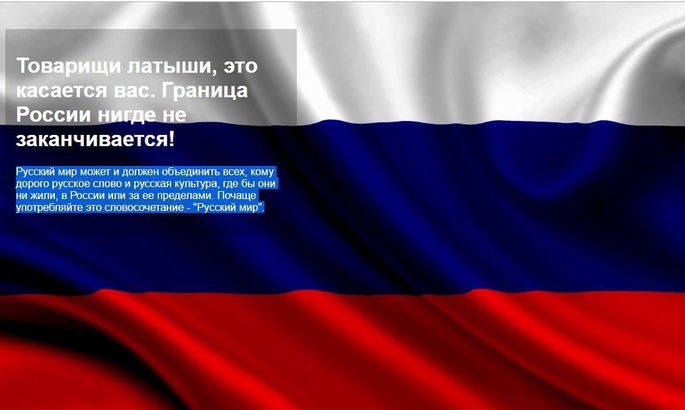 Latvia's local Facebook alternative social network
Draugiem.lv
was hacked Saturday morning and replaced with an image of a Russian flag and text in the Russian language warning that "Russia has no borders." An audio recording of the Russian national anthem also played for visitors of the site. Despite initial fears that the hack could be connected with a campaign to interfere with the election, the Latvian internet security think tank "
Cert.lv
" claims that the hack poses no threat to national security. So far there have been no suspects formally identified in relation with the attack.
Source:
The Baltic Times
Rīgas Satiksme's offices searched by police on Monday
The headquarters of Rīgas Satiksme, the capital city's transit authority, were raided by police in relation to an investigation into the "nano-water scandal," in which a fake company was awarded more than €700,000 in illegal no-bid contracts supposedly for high-tech cleaning supplies in 2012. Mayor of Rīga Nils Ušakovs, leader of the Saskaņa party which came in first place on Saturday's elections, criticized the timing of the raid just days before the election as being politically motivated, as his party has controlled city government for the last decade. Although four people were formally charged in relation to the scheme in 2017, it seems that no one was arrested in Monday's police action. The investigation is currently being conducted by the state police's economic crimes unit, and is ongoing.
Sources:
LSM
,
Delfi
Jūrmala mayor at center of drug scandal
due to his role in illegal political party funding in 2016
, and
according to LSM
has been suspected of illicit drug dependence in the past. Despite the current controversy, he survived a vote of no confidence today due to steady support from his
Zaļo un Zemnieku savienība
party, and he has denied all charges.
Sources:
LSM
,
Delfi
Biļešu paradīze sued over Song and Dance Festival ticketing
Anyone who tried to buy tickets online for this summer's Song and Dance Festival likely has choice words regarding ticket provider firm "Biļešu paradiže" due to widespread technical issues that led to many customers being locked out of the system despite waiting for hours. Now the company is being sued by the Latvian National Center for Culture one of the festival's major sponsors, for €76,512 in ticket surcharges that organizers believe consist of a breach of contract. The center claims that if the case is successful, the money will be used to pay for the organization of the next festival in 2023.
ABLV criminal case confirmed
Latvian state police confirmed on Thursday that an official criminal investigation into money laundering at the defunct ABLV bank, previously the largest bank of Latvian capital now going through a controversial "self-liquidation" process, has been ongoing since July 3rd. The bank became the center of international attention and concern when the United States Department of Treasury's FinCEN agency accused it of money laundering for international clients, including some allegedly connected with the North Korean military. Critics worry that key evidence might be destroyed in the opaque self-liquidation process that was approved by the government earlier this year.
Sources:
LSM
,
TVNET
Rail Baltica representative claims everything will proceed as planned
In an interview with Latvijas Radio 1 Tuesday morning, Rail Baltica representative Agnis Driksna claimed that the project to create a European-standard high-speed railroad would continue as schedule according to the original plan and be open to traffic in 2026 despite doubts about the project raised due to the dramatic resignation by project CEO Baiba Rubesa last week. Construction is expected to start in 2021, and the railway is planned to extend across 263 kilometers throughout Latvia.
Source:
LSM
Anastasija Sevastova comes in second at China Open
28-year-old Latvian tennis superstar Anastasija Sevastova lost to Caroline Wozniaki 6-3, 6-3 in the finals of the 2018 China Open tournament after defeating US Open champion Naomi Osaka in the semi-finals. This follows her impressive run at the US Open, when in September she made it all the way to the semi-finals before being knocked out by the legendary Serena Williams. Sevastova retired from professional tennis in 2013 due to injuries, but since returning in 2015 has had an impressive career. After the tournament, she is now ranked as the
#1 Latvian women's tennis player in WTA rankings
ahead of Aļona Ostapenko, and #12 overall.
Latvian-Australian travels more than 4000 kilometers to vote
English teacher and regular Latvia Weekly reader Kris Akenfelds travelled 4,352 km between his current city of Siem Riep, Cambodia to become the first person to officially vote on the morning of the election due to time zones. The second generation Latvian citizen's story was heavily featured by media sources throughout election day, and inspired various interviewees on Latvian television channels to make the much shorter journey to their nearest voting precinct. According to Central Election Commission data, 31,946 of 130,702 eligible overseas voters cast ballots in 123 locations throughout the world, for a turnout of 24.5%.
Poll of the Week:
This week we asked our Facebook readers if they were satisfied with the results of the election, and they seem to be fairly evenly split on the issue a day away from the final totals being reported. To take part in next week's poll and to stay up to date each day with top "stories of the day," make sure to
"like" our Facebook page her
e. We will also be posting any significant updates regarding the formation of the next government to the page, so make sure to stay tuned!
Before we finish, we'd like to give a huge thanks to everyone who made yesterday (Sunday) the most successful day in this blog's quite short history! Thank you for sharing our guide to the election results with your friends and family, and please be on the lookout for a post about the prime minister candidates and their prospects of forming a government which should hopefully be released tomorrow. Also, if you enjoy the blog, please consider hitting the "subscribe" button at the top of the page so that you will be the first to know when we publish our weekly updates or any other articles. Take care, and have a great week!